//SPECULATIVE LANDSCAPES SYMPOSIUM
In an era where past is no longer prologue, how do (landscape) designers think about the future and their role as well as the implementation and evolution of the landscapes they conjure and construct?
Speculative Landscapes draws together a range of designers, thinkers, and practitioners to speculate on new contexts, technologies, and techniques that will influence the future of landscape architecture and design. Design speculation departs from a solutionist mindset by projecting possible futures through projective techniques of scenario building, storytelling, and (de)futuring. Speculation is informed with the use of novel technologies, enabling designers to envision, test, and critique desirable and undesirable futures.
on Broadway Event Center_ 4683 Old Broadway, Knoxville, TN 37918
10:30   

              Doors Open_ 
11:00-11:10

          Symposium Introduction_
Panel_01            Projective Scenarios / Technological Speculation
11:10-11:15 

           Intro
11:15-11:40 

          Presentation 01_           

David Ruy
11:40-12:05

          Presentation 02_           

James Billingsley
12:05-12:30

         Presentation 03_           

Jennifer Chen
12:30-1:00 

          Panel Discussion
 1:00-1:10              Break: Refreshments + Snacks/Panel 02 set-up_
Panel_02         Fire as Technology / Storytelling
1:10-1:15

             Intro
1:15-1:40

             Presentation 01_               

Brett Milligan + Emily Schlickman
1:40-2:05

           Presentation 02_             

Chad Manley + Jeremy Magner + Thena Tak
2:05-2:30

          Presentation 03_               

Emily Knox + David Hill
2:30-3:00  

        Panel Discussion
3:00-3:10            Break: Refreshments + Snacks/Panel 03 set-up_
Panel_03         An Array of Speculation
3:10-3:15  

          Intro 
3:15-3:35 

          Presentation 01_             

Forbes Lipschitz
3:35-3:55 

         Presentation 02_             

Faye Nixon
3:55-4:15 

          Presentation 03_             

Rob Holmes
4:15-4:45

            Panel Discussion
4:45-5:15 

           Closing Comments and Open Discussion_
5:15-5:45            Drinks and Room Conversations_
PANEL 01_ PROJECTIVE SCENARIOS / TECHNOLOGICAL SPECULATION
David Ruy is an architect, theorist, and director of Ruy Klein. David received his M.Arch degree from Columbia University and his B.A. degree from St. John's College where he studied philosophy and mathematics. Ruy Klein examines contemporary design problems at the intersection of architecture, nature, and technology. Encompassing a wide array of experimentation, Ruy Klein's projects study the mutual imbrications of artificial and natural regimes that are shaping an ever more synthetic world. The work of Ruy Klein has been widely published and exhibited and has been the recipient of numerous awards recognizing the firm as one of the leading experimental practices in architecture today. Their work is part of the permanent collection of The Museum of Modern Art in New York City and The Frac Centre in Orléans, France.
James Billingsley holds a Bachelor degree in Geography from the University of Chicago and Master Degrees in Architecture and Landscape Architecture at the University of Pennsylvania. He has held teaching positions at the University of Pennsylvania and is also co-founder and editor of Cline, an independent journal for emerging writers in landscape architecture and allied disciplines.
Jennifer Chen is an architect and designer who works at the intersection of science and fiction, exploring themes of geoengineering, remote sensing, and climate change futures in projects that take the form of buildings, installation, film, and performance. Chen's designs for stage and screen include a speculative series of planetary scale post-climate animations, a collection of flying drone characters for the UK's Channel 4 science fiction film In the Robot Skies, the sellout drone orchestra performance Loop 60hz at the Barbican Theatre in London, and the camouflage costumes for the laser scanned film Where the City Can't See.
Chen has also extended her research into academic contexts, running award-winning design studios at institutions such as the Bartlett School of Architecture, SCI-Arc, and Leeds School of Architecture, and as a guest critic at universities in Australia, UK, and the US. Chen's work has been published internationally and exhibited at galleries such as Tate Modern, Barcelona's CCCB, the EYE Institute in Amsterdam, Telefonica Madrid, the Venice Biennale, and her first US solo show being developed for the SCI Arc Gallery in Los Angeles.
PANEL 02_ FIRE AS TECHNOLOGY / STORYTELLING
Brett Milligan is a landscape architect and professor of landscape architecture and environmental design at the University of California, Davis. He is a co-founder of the Dredge Research Collaborative, a nonprofit organization dedicated to exploring the human alteration and design of sedimentary landscapes, and at UC Davis, the director of the Metamorphic Landscapes Lab, dedicated to prototyping landscape-based adaptations to conditions of accelerated climatic and environmental change through transdisciplinary design research. Much of his work is based in California and the Bay-Delta region, undoing and reworking colonial legacies of land reclamation, water infrastructure, flood control and fire suppression.
Emily Schlickman is an assistant professor of landscape architecture and environmental design at the University of California, Davis. Her research focuses on the intersection of digital representation, urban futures, landscape management, and climate change adaptation. Currently, she is exploring how to bolster resilience in wildfire-prone areas through landscape stewardship and community design techniques. Prior to joining the faculty at the University of California, Davis, Emily worked professionally as a landscape and urban designer and a practice-based researcher.
Chad is a teacher and designer. He is the founder of Chad Manley Practice in Landscape and Building Arts. Based in Vancouver, BC., his practice traverses a weaving of landscape, architecture, film, and ecological recovery. His built and immaterial work float amongst the complex continuums of culture and nature, and reflect ancient and contemporary imperatives within the Cascadian cultural-bioregion. A Fellow within the School of Landscape Architecture, Chad's teaching in Tennessee reflects a curiosity in the specific ecologies and conflicting stories of the South. His studios and courses encourage contemplation on the understudied and quiet voices of our world, whereby diverse cultural ephemera and ecological phenomena form a basis or ascent towards meaningful conversation. Whether in studio and or private practice, 'empathic collisions' are encouraged within the design process, yielding open and non-prescriptive pathways which alternate within the concentrations of rigor-and-play, hunch-and-belief, history-and-future.
Jeremy served as a Tennessee Architecture Fellow from 2020-2022 and more recently as lecturer in the School of Architecture. In teaching, research, and practice he challenges conventional boundaries between designer and builder with the aim of developing a deeper engagement with the means of production of architecture and its consequences—human, material, and ecological. Magner's work is deeply in-tune to regional cultures of extraction and making and his embedded creative practice cultivates kinship with robots and people alike. This often involves design of protocols, tools, and rituals. He tells stories about people, process, materials, and the planet through and around his work. In 2015, he was selected as an Artist-in-Residence/Affiliated Artist at AUTODESK Pier 9 Workshop and for many years managed project fabrication and design for notable firms including robotics-leader Machineous as well as Gensler, Morphosis and others before beginning a teaching and research trajectory at Cal Poly San Luis Obispo.
Thena Jean-hee Tak is a researcher, designer, educator, and founder and principal of the design practice LILO: Little Office. She holds a Bachelor of Architecture from Cornell University and a Master of Architecture from Harvard GSD. Tak previously taught at the University of British Columbia School of Architecture and Landscape Architecture, where her graduate-level classes addressed design studios, research methods, and digital media; the
University of Minneapolis College of Design; and Cornell University's College of Architecture, Art, and Planning. Professor Tak has also worked at a number of renowned offices, including Vincent James Associates Architects in Minneapolis, Höweler + Yoon Architecture in Boston, and Barkow Leibinger Architects in Berlin.
Emily Knox is an assistant professor in the School of Architecture and Planning and Landscape Architecture at Auburn University. She holds a Master of Landscape Architecture and a Bachelor of Science in City and Regional Planning from The Ohio State University Her research interests are embedded in the intersection of people and place. She's interested in the ways that humans make decisions in and about the landscape – particularly in those landscapes where ecological systems and social systems are deeply intertwined. Most recently she's conducted research in the sheep ranching landscapes of Argentinian Patagonia. She was specifically interested in how the conflicting interests of multi-national conservation organizations and sheep ranchers played out spatially in the grass steppe. She advocates for design as a tool to ask new questions about social-ecological systems, like the steppe, as they are put under increasing pressure by global forces.
David is an associate professor and the graduate landscape architecture chair at Auburn University. He holds a Master of Landscape Architecture and Architecture from the University of Virginia, as well as a Bachelor of Science in Architecture from Georgia Insitute of Technology. Prior to joining the faculty at Auburn, David helped unearth post-industrial landscapes as an Associate at D.I.R.T. studio, where he managed projects such as Urban Outfitters Headquarters in the Philadelphia Navy Yard, Voelcker Park in San Antonio Texas, the Historic Pabst Brewery in Milwaukee Wisconsin, and the Holy Cross Project in New Orleans Louisiana. The Urban Outfitters Headquarters was recently awarded a 2014 National ASLA Award of Honor in Design. Building on this rich experience with regenerative projects, Hill continues to advance design research of innovative material reclamation and reuse strategies through academic coursework and disciplinary research at Auburn University.
PANEL 03_ AN ARRAY OF SPECULATION
Forbes Lipschitz is an Associate Professor and the Graduate Chair of Landscape Architecture at the Knowlton School. As a faculty affiliate for the Initiative in Food and AgriCultural Transformation, her current research investigates the potential of design to reframe and reshape conventional working landscapes. Through public installations and participatory workshops, she explores ways for design to help communities better understand and engage with agricultural systems. Her research has been published nationally and internationally and her creative work has been featured in Landscape Architecture Magazine, Metropolis Magazine, and Smithsonian Magazine. She has been awarded funding from the Foundation for Food and Agricultural Research, the Graham Foundation for Fine Arts and the Van Alen Institute.
Farre "Faye" Nixon is an assistant professor in the School of Landscape Architecture within the College of Architecture and Design at the University of Tennessee, Knoxville. She holds a Bachelor of Science in Urban Studies and Planning from MIT and dual Master degrees in Architecture and Landscape Architecture from the University of Pennsylvania's Weitzman School of Design. Her research includes investigating speculative and critical design methodologies, using creative writing techniques such as worldbuilding as a design tool, interrogating the ways emerging technologies and design intersect, and co-designing with humans and their non-human counterparts within the context of uncertain climate futures.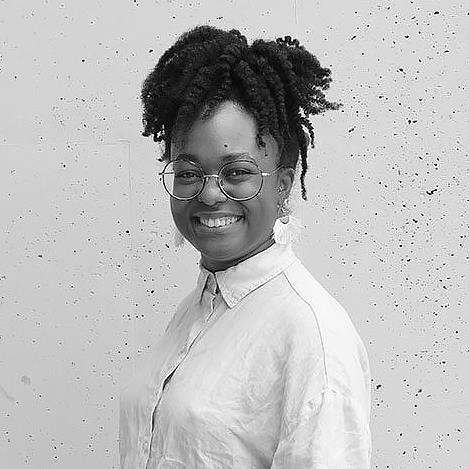 Rob Holmes is an associate professor and the undergraduate landscape architecture chair at Auburn University. He holds a Master of Landscape Architecture from Virginia Tech, and a Bachelor of Arts in Philosophy from Covenant College. His research and creative work is primarily concerned with infrastructure design, urbanization, and landscape change. He is a co-founder of the Dredge Research Collaborative, an independent nonprofit organization which aims to improve the design and management of sediment through publications, the DredgeFest event series, and design research.
follow the symposium on instagram: